20 Best Things to Do in Bethesda, MD
Located in southern Montgomery County, Maryland, Bethesda is one of the most highly educated and affluent communities in the United States. As the government in nearby Washington DC grew and the National Naval Medical Center was built in 1942, Bethesda, MD, grew in importance and wealth. Today, it is a thriving, modern, and sophisticated urban district with 20 art galleries, almost 200 restaurants, two theatres, and some of the best shopping in the area. Here are the best things to do in Bethesda, Maryland. CDC information for travelers. Hours/availability may have changed.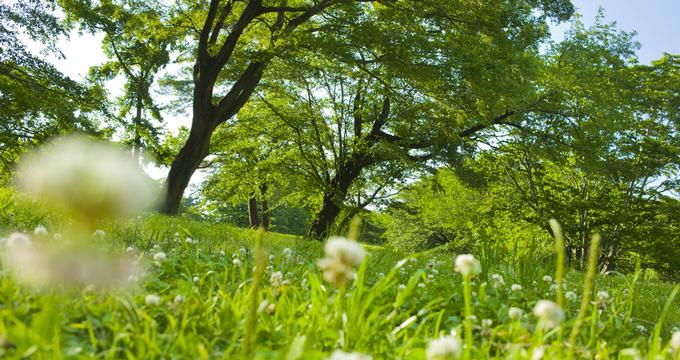 1.

Strathmore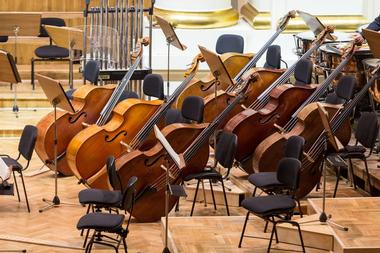 For more than 30 years, Strathmore has presented affordable and exciting performances at the Bethesda Music Center. As a non-profit, multi-disciplinary arts venue, Strathmore hosts performers who entertain visitors with a variety of musical performances across all genres. The 16-acre site houses several music rooms, an outdoor performance pavilion, a sculpture garden, and a boutique.
The music center has also partnered with organizations such as the Baltimore Symphony Orchestra, The National Philharmonic, and Maryland Classic Youth Orchestras to support musical education and performance in the community. Strathmore also presents its shows at a recently-built venue called AMP.
10701 Rockville Pike, North Bethesda, MD, 20852, Tel. +1 301-581-5100
2.

Cabin John Regional Park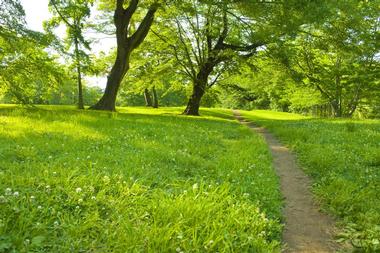 Cabin John Regional Park offers a unique blend of nature and recreation. Cabin John boasts a variety of attractions, including the Pauline Betz Addie Tennis Center, the Cabin John Ice Skating Rink, the Locust Grove Nature Center, the Tai Chi Court, and the Robert C. McDonnell Campground. A dog park and a miniature train with a two-mile track are also located on park grounds. If you are wondering what to do in Bethesda with kids, this is a great place to visit.
There are picnic and playground areas that are equipped with tables, grills, pavilions, and even snack bars. Sports enthusiasts can enjoy Cabin John's lighted baseball field, softball fields, and handball and volleyball courts. Two hiking and biking trails—one that is five miles long and another that stretches for nine miles—also wind their way throughout the property.
7400 Tuckerman Lane, Bethesda, MD, 20817, Tel. +1 301-765-8702
3.

Imagination Stage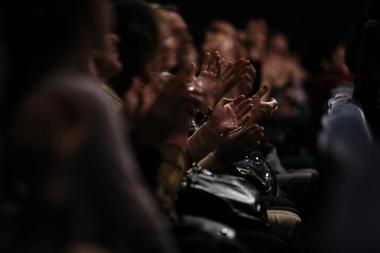 Imagination Stage was founded in 1979 in order to provide arts education to young people. It is now known as the largest multidisciplinary arts theater group for youth in the mid-Atlantic area. Imagination Stage offers performances, classes, and theater camps for youth ages 1-18, and each of these programs is designed to be accessible and affordable for all.
The classes at Imagination Stage are divided up by age and offered on a semester schedule. In addition to classes, there are fun, family-friendly shows offered at Imagination Stage throughout the year. The center is also equipped to welcome field trip groups and parties.
4908 Auburn Avenue, Bethesda, MD, 20814, Tel. +1 301-961-6060
4.

Round House Theater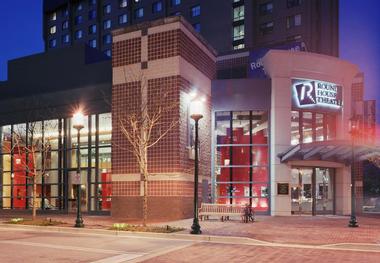 Round House Theater seeks to educate and inspire audiences of all ages through the performing arts. During each performance season the Round House Theater offers a variety of exciting and informative shows. Round House also has its own troupe of talented teens who are part of the theater's Teen Performance Company.
These youth get to work alongside professional performers, and they routinely star in Round House theater productions. The Round House Theater is located within walking distance of more than 20 restaurants, which makes it a perfect spot for dates or a night out with the family.
4545 East-West Highway, Bethesda, MD, 20814, Tel. +1 301-215-9142
5.

KID Museum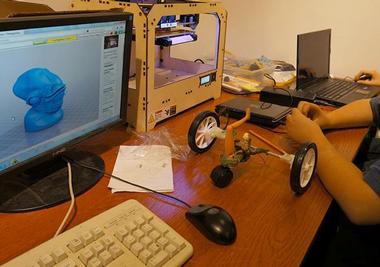 KID Museum was founded by an innovative group of parents who wanted to help children utilize their natural creativity. Located in the Davis Library, KID Museum offers a series of programs and courses to help children develop useful skills while having fun. Ongoing art classes, computer programming courses, and 3D printing workshops are just a handful of KID's unique educational programs.
KID Museum also holds regular events where kids are taught special skills that aren't part of the ongoing curriculum. Lastly, KID Museum has options for after-school workshops, summer camps, and preschool programs. KID Museum is one of the best things to do in Bethesda, Maryland for families. Read more
6400 Democracy Blvd., Bethesda, MD, 20817, Tel. +1 301-897-5437
6.

Bethesda Salt Cave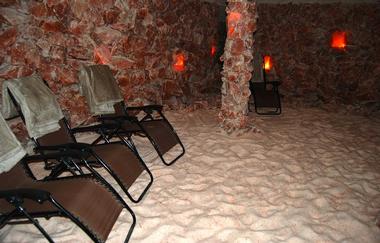 Located in downtown Bethesda, this attraction is modeled after a traditional Himalayan salt cave. The salts inside Bethesda Salt Cave are used in therapy sessions, where people come to the cave to breathe in the salt air. There have been several indications that the salt air helps alleviate sleeping problems, provides relief to people with asthma or allergies, and helps improve lung function, but Bethesda Salt Cave doesn't make any medical guarantees.
Salt Cave sessions last for 45 minutes. The sessions are generally public, but private sessions are available upon request. Bethesda Salt Cave also offers yoga classes, meditation courses, sound bowl concerts, and essential oils workshops.
4709 Montgomery Lane, Bethesda, MD, 20814, Tel. +1 301-312-6377
7.

National Museum of Health and Medicine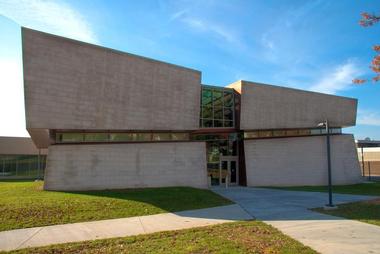 During the Civil War, the National Museum of Health and Medicine (NMHM) was known as the Army Medical Museum. For years it served as a central hub for research in general medicine, treatments for infectious diseases, and medical conditions related to war. The National Museum of Health and Medicine received its current name in 1989, and now holds several exhibitions detailing recent advances in military medicine, anatomy and pathology, and Civil War medicine.
The museum also has five collections on display that teach visitors about human anatomy, the anatomy of the brain, and the history of military medicine. The museum is only four miles away from central Bethesda.
2500 Linden Lane, Silver Spring, MD, 20910, Tel. +1 301-319-3300
8.

Kidville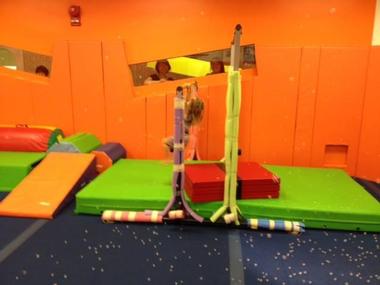 Kidville is the perfect spot for high-energy youngsters. The center has a variety of programs, classes, and gym areas where children can safely learn and play. Kidville offers courses in music, art, dance, and gym for children who are five years old and under.
Kidville also offers a pre-school alternative as well as ongoing multi-subject camps. While kids are in class, parents can stay busy by visiting the built-in salon or enjoy shopping at the Kidville boutique. Kidville is also available to rent for birthday parties and special events.
4825 Bethesda Avenue, Bethesda, MD, 20814, Tel. +1 301-656-5030
9.

Bethesda Blues & Jazz Supper Club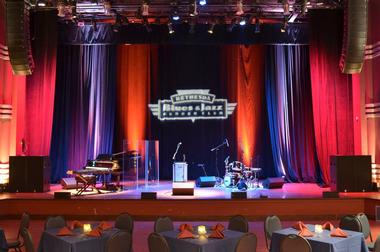 Bethesda Blues & Jazz Supper Club is the premiere spot for enjoying jazz music from top artists. Each night a different performer takes the stage as guests dine on delicious soups, salads, and entrees. The dinner menu offers a variety of options, including vegetarian and gluten-free dishes. Bethesda Blues & Jazz has a lively yet intimate setting perfect for a date or a night out with friends.
The elegant concert hall seats 500 people total, and there is a dance floor that is made available on the club's specified "dance nights." In addition to nightly performances, Bethesda Blues & Jazz is available to rent for special events. The building is suitable for many functions, including birthday parties, corporate events, and weddings.
7719 Wisconsin Avenue, Bethesda, MD, 20814, Tel. +1 240-334-4500
10.

Ratner Museum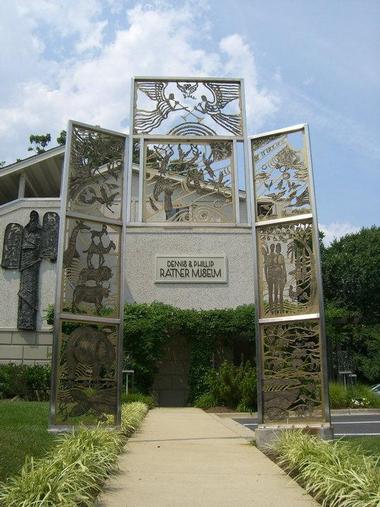 Dennis and Phillip Ratner own and operate the Ratner Museum, which has a unique focus on Jewish history and Israeli exhibits, and it boasts a wealth of unique, historic artifacts. Many of the sculptures in the museum were made by Phillip Ratner, an artist with years of sculpting experience.
In addition to Phillip Ratner's works, the museum has a wide range of paintings, books, and photographs that depict various aspects of Jewish culture and beliefs. The Ratner Museum also has exhibits dedicated to American history, such as the Statue of Liberty and Ellis Island collections. Tours, lectures, concerts, and readings are routinely held at the Ratner Museum for student groups as well as the public.
10001 Old Georgetown Road, Bethesda, MD, 20814, Tel. +1 301-897-1518
11.

Food, Wine and Co.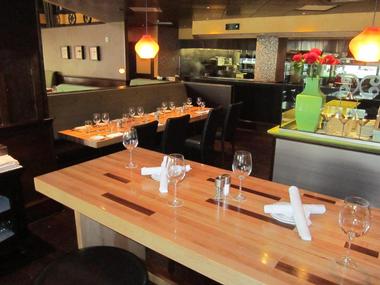 It is difficult to put Food, Wine&Co in any category. It is a bistro, but it is elegant and upscale. It is a restaurant, but one that is informal and relaxed. But, once you taste the food, you do not care what kind of eatery it is. The establishment is equally great if you stop for an after-work cocktail and a bite to eat with friends or if you bring a date you wish to impress.
Chef Michael Harr plays with fresh, local, and seasonal ingredients to create his own imaginative version of all-time favorites. He makes things like bone marrow appetizing and combines pork belly with raisin jam. Since everything is delicious, he makes you want to experiment. The extensive wine list and great choice of craft beers offer something for every taste and every budget.
7272 Wisconsin Ave, Bethesda, MD 20814, United States, Tel. +1 301-652-8008
12.

Waverly Street Gallery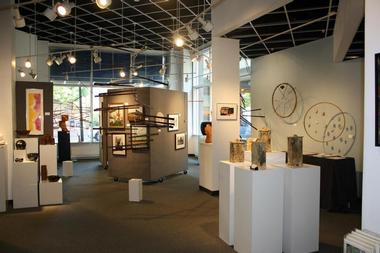 Waverly Street Gallery features work from a variety of contemporary visual artists. Painters, sculptors, photographers, and jewelers are among the many types of artists who display their creations at the gallery. In addition to the gallery's permanent displays, visitors can admire a series of rotating exhibits that throughout the year.
The gallery also facilitates networking among artists through its membership program. Waverly Street Gallery memberships are available to artists in the Washington, DC area over the age of 21. Members are expected to sit in on monthly meetings for at least a year.
4600 East-West Highway, Bethesda, MD, 20814, Tel. +1 301-951-9441
13.

Gringos and Mariachis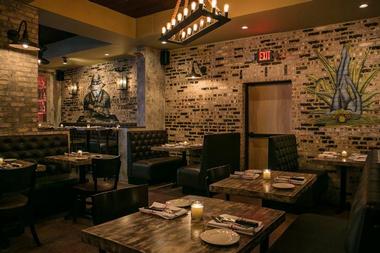 Gringos & Mariachis is an upscale version of a Mexican cantina, with spectacular murals, comfortable leather banquettes, and some of the best margaritas you will find anywhere. The place is packed, lively, and fun, and extensive list of tequilas, whiskies, and mescal is one of the reasons behind their exciting atmosphere. The other is the menu, which features everyone's favorites such as street tacos, enchiladas, burritos, tamales, nachos, and much more.
Choosing is the problem, when it comes to both margaritas and tacos: the fresh jalapeño with cucumber margarita, sweet but not too sweet ginger-hibiscus margarita, or a smoky margarita with mescal? And who can pick only one when tacos come with such quirky fillings like lamb with salsa verde, fish with sriracha and cabbage, and Berkshire pork with pineapple and onion? Why not seat at the fun bar made of recycled wood and let the bartender surprise you?
4928 Cordell Ave, Bethesda, MD 20814, United States, Tel. +1 240-800-4266
14.

Mussel Bar and Grille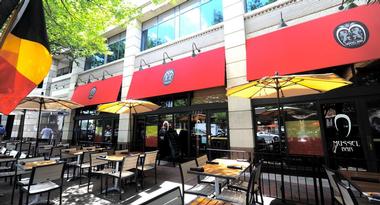 How do you like your mussels? Raw and with beer, of course. But wait until you see what Mussel Bar and Grille owner and chef Wiedmaier does with them: you can have classic mussels with white wine, roasted garlic, cream, and parsley; with goat cheese, Merguez sausage, cilantro, and tomato broth; or with the Kennet Square Mushrooms, bacon smoked in apple wood, and truffle cream.
You can choose one of the 125 beers to go with your mussels. 50 of them are Belgian, including chef Wiedmaier's own Antigoon. There is much more than mussels at this modern, elegant restaurant: they offer interesting seafood, grilled meats, and some delicious Flemish dishes you have to try, such as traditional onion soup with Gruyere, Belgian tarts, Carbonnade, and cold seafood platters.
7262 Woodmont Ave, Bethesda, MD 20814, United States, Tel. +1 301-215-7817
15.

Mia's Pizzas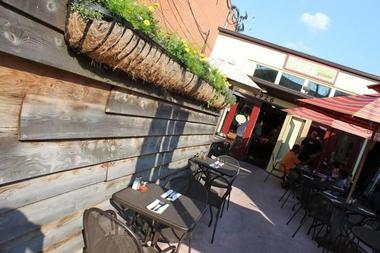 Before coming into Mia's Pizzas you will pass by a pile of wood. It looks like an interesting art installation, but it is in fact the fuel for the enormous, monolithic 4000-pound wood-fired oven that was made in Seattle and shipped across the country. What comes out of that oven would make any Neapolitan proud: pies that are soft on the inside and crunchy on the outside and substantial enough to hold any number of fillings you choose without falling apart.
And there is a lot to choose from, with some fantastic choice of cheeses from all over the world. There is even a sweet pizza with caramel, chocolate, and Nutella. There is a lovely patio outside where you can savor your pie if the weather is nice. Mia's has a nice selection of wine by the glass and some interesting beers.
4926 Cordell Ave, Bethesda, MD 20814, United States, Tel. +1 301-718-6427
16.

Le Vieux Logis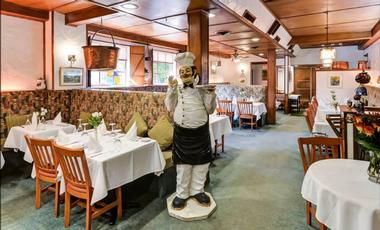 Le Vieux Logis is as French as the Eifel Tower, from the charming country house exterior covered with flowers to the faded frescoes on the walls and quirky chef sculptures that greet guests upon arrival. The interior is equally charming and French country traditional in style, with crisp white tablecloths and wood paneling.
Chef Christian Gautrois uses his extensive experience to create a menu featuring traditional dishes from the Champagne region of France as well as plates creating using his own family recipes. He uses seasonal bounty produced by Maryland's farmers and fishermen to create traditional and popular French dishes that are prepared to perfection. The best deal is the prix-fixe three-course menu offered three times a week – why not try a bit of everything?
7925 Old Georgetown Rd, Bethesda, MD 20814, United States, Tel. +1 301-652-6816
17.

Cava Grill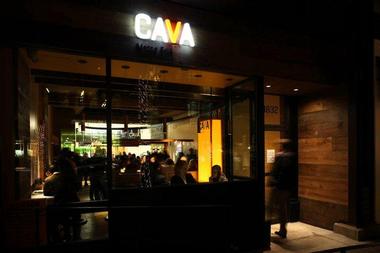 Cava Grill offers traditional Greek and Mediterranean food that is fresh, fragrant, flavorful, and healthy but served in a new, modern way. Cava Grill has adopted increasingly popular "you mix and match your own dish" system, and it is working out very well. Their Bethesda counter-serve restaurant is simple and unpretentious, but the service is exceptional, and everything is made in front of you.
You start by choosing your base – rice, pita or salad – add one of six spreads or dips such as hummus or tzatziki, then choose your favorite protein – meat or falafel. On top of that, you add a topping and a dressing, and you end up with a mountain of food that tastes completely different every time you choose at least one different ingredient. That means you simply have to come back. Be careful with all the toppings – they can quickly add calories to an otherwise very healthy dish.
Bethesda Row, 4832 Bethesda Ave, Bethesda, MD 20814, United States, Tel. +1 301-656-1772
18.

Luke's Lobster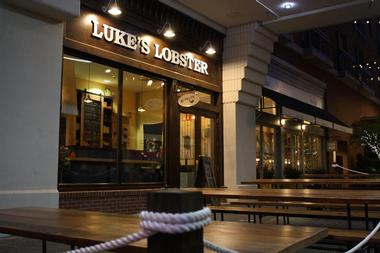 Luke's Lobster owner Luke Holden says that it does not take a great chef to make a great lobster roll, it takes great lobster. He buys his lobster, shrimp, and other seafood from sustainable Maine fisheries he knows and trusts, packs them in his own fish factory and delivers them fresh and sealed to his restaurants.
It also helps that the rolls are fresh, toasted, and buttered and that the serving of lobster is generous. Additionally, the price is always right. Luke's Lobster shack is quite an unassuming establishment, but the lobster rolls, clam chowder, shrimp rolls, and a few other items from the small menu offer the true, authentic flavor of Maine. The only other thing you need for a perfect meal is also conveniently available – a bottle of cold beer from one of the local microbreweries.
7129 Bethesda Ln, Bethesda, MD 20814, United States¸ Tel. +1 301-718-1005
19.

Fresh Baguette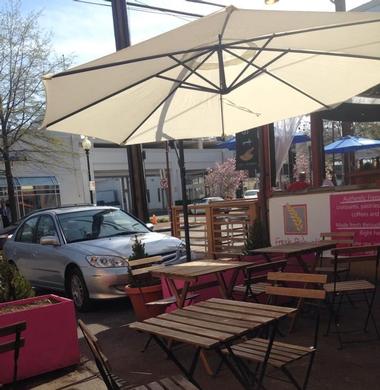 When you come to buy a baguette at this charming bakery, you better buy more than one because you will almost certainly eat one on the way home. That is how delicious they are. And it's not only the baguettes.
This authentic French bakery treats Bethesda residents with tantalizing delights such as Viennese pastries, tarts, quiches, macaroons, and, of course, all kinds of hand-made breads that are baked fresh daily. All ingredients are American except the yeast, which is imported from France. They also sell original French mustards, cornichons, and jams.
4919 Bethesda Ave, Bethesda, MD 20814, United States, Tel. +1 301-656-0000
20.

BGR The Burger Joint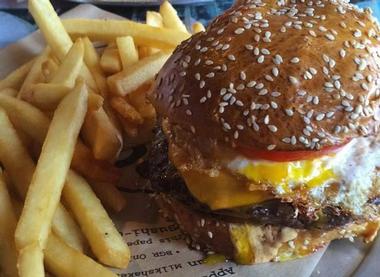 BGR's Bethesda Burger Joint reminds you why you fell in love with burgers as a kid, a love affair that never went away. The restaurant is colorful, modern and unpretentious, and it's always full because it is impossible to resist the smell of flame-cooked burgers. The meat comes from grass-fed cattle, with no hormones, antibiotics, or fillers.
The burgers are made of dry-aged prime beef that is ground by hand every day. The brioche buns are made locally and daily, and veggies are fresh, ripe, and crisp. The result is a burger you will not forget. It is juicy and delicious, with just the right amount of veggies in a perfect bun. You might want to try their divine lobster burger or lamb burger with cucumber and feta. Don't forget the crispy sweet potato fries.
4827 Fairmont Ave, Bethesda, MD 20814, United States, Tel. +1 301-358-6137